Membership
Florida boasts over 14,000 members statewide. Our membership campaign and resources help students and advisers prepare for the school year.
Competitive Events
FCCLA's competitive events help students hone in on their leadership potential. Learn more about STAR Events and Florida's own Proficiency Events.
Leadership
Through our conferences and workshops, Florida FCCLA helps students discover their inner leaders. Learn more here.

Latest from Blog
Learn what's happening!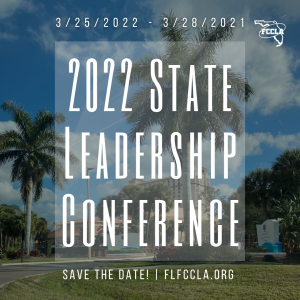 It's Time. Members. Advisers. Volunteers. Get Ready. The 2022 State Leadership Conference is Around the Corner, and we can't wait for you to experience what we have been planning. Here are some things you should know: 1 Conference Date and Location The Conference will be hosted March 25-28, 2022 in Orlando, Florida's own DoubleTree by…
Our work would not be possible without the financial and volunteer support of various sponsors, who allow us to provide thousands of students across Florida with an experience of a lifetime.